terstar.shop
SONOFF Zigbee Bridge /Wireless Switch / Temperature And Humidity Sensor/Motion Sensor /Wireless Door Window Sensor Zigbee 3.0
Regular price
$15.94
$0.00
Unit price
per
Tax included.
Shipping
calculated at checkout.
SONOFF Zigbee Bridge /Wireless Switch / Temperature And Humidity Sensor/Motion Sensor /Wireless Door/Window Sensor Zigbee 3.0
Note:Note:Some logistics channels (such as Aliexpress Direct/ Special Line-YW China Post Registered Air Mail/SF eParcel) are not allowed to carry batteries. In order to ensure that the goods can be sent out, we will take out the batteries and then deliver . Please understand.If you have any questions, please consult the customer service. SONOFF SNZB-01 Zigbee Wireless Switch is a mini and exquisite ZigBee wireless smart switch replying on SONOFF ZigBee Bridge that allows you to reach the purpose of scene linkages between ZigBee devices (SONOFF BASICZBR3 DIY smart switch and S31 Lite zb smart plug) and Wi-Fi devices. SONOFF SNZB-02 is a ZigBee temperature and humidity sensor that can seamlessly work with SONOFF ZigBee Bridge to track and record the temperature and humidity change in your home, which all real-time readings can be checked on eWeLink APP. SONOFF SNZB-03 is a ZigBee motion sensor is an extra-handy smart device for placing anywhere in your home to detect motion and trigger alarms. SONOFF SNZB-04 is a ZigBee two-in-one wireless door/window sensor that can be put on your door or window to tell you with an alert notification if your door or window is opened or closed, adding an extra layer of security to your home. SONOFF ZigBee Bridge is the heart of smart home that enables you to remotely manage a variety of ZigBee devices and sensors for monitoring and control purposes of home, and allows you to create smart scenes to make Wi-Fi and ZigBee smart devices communicate to access a smarter home and control them all using the eWeLink APP.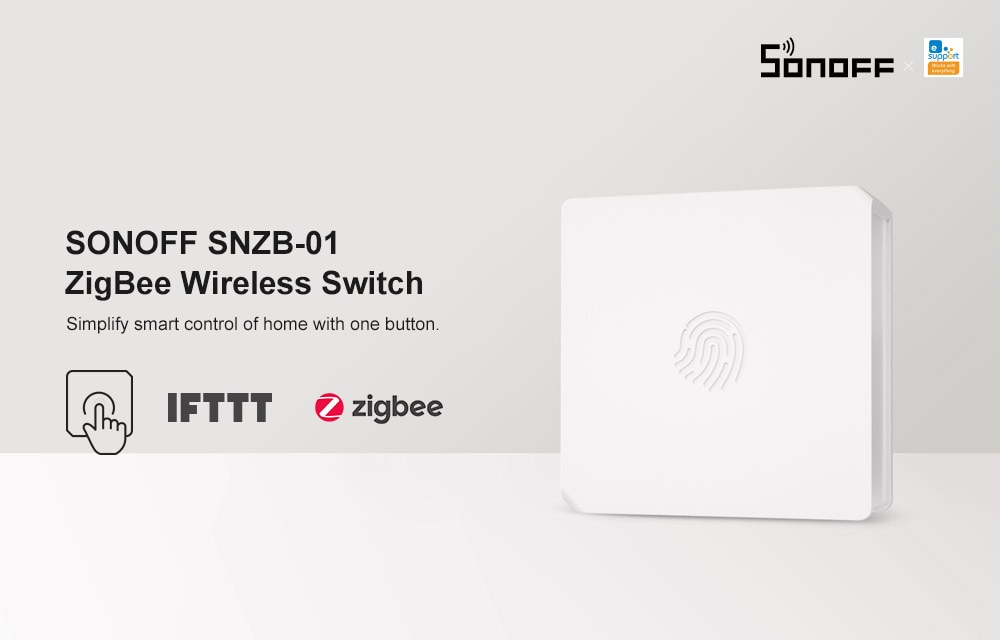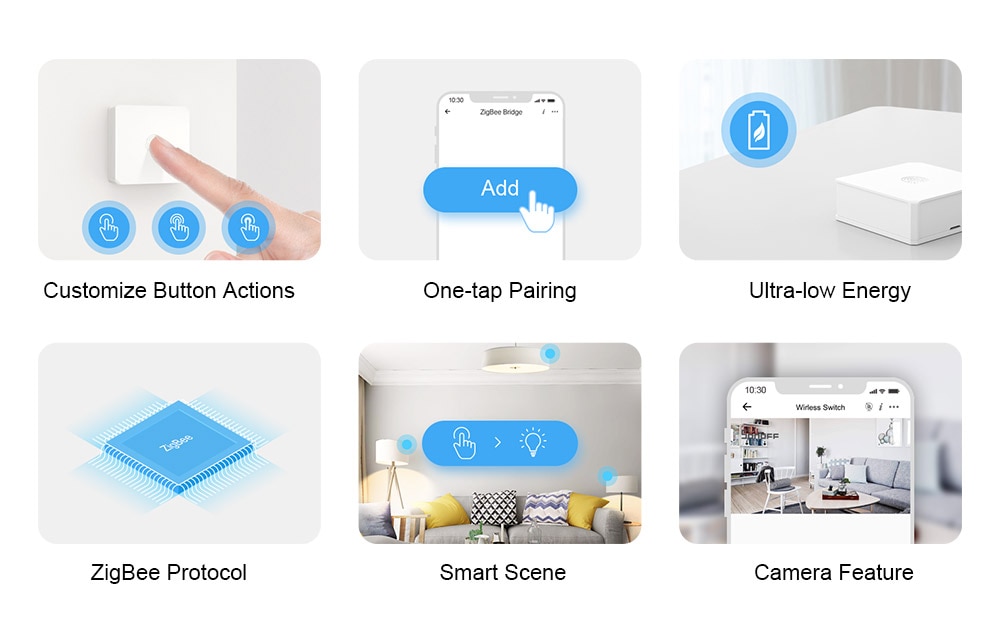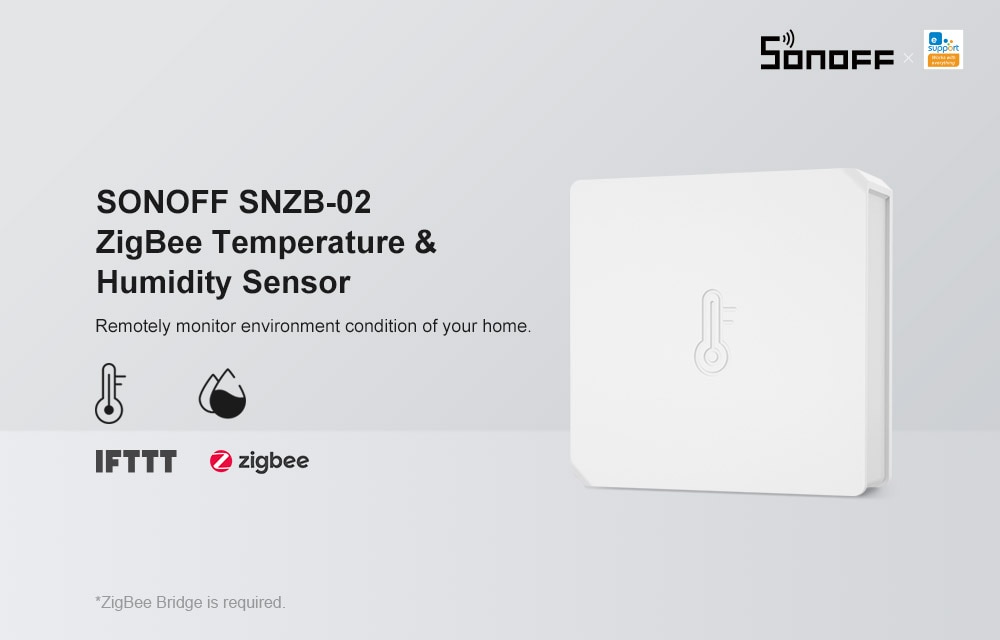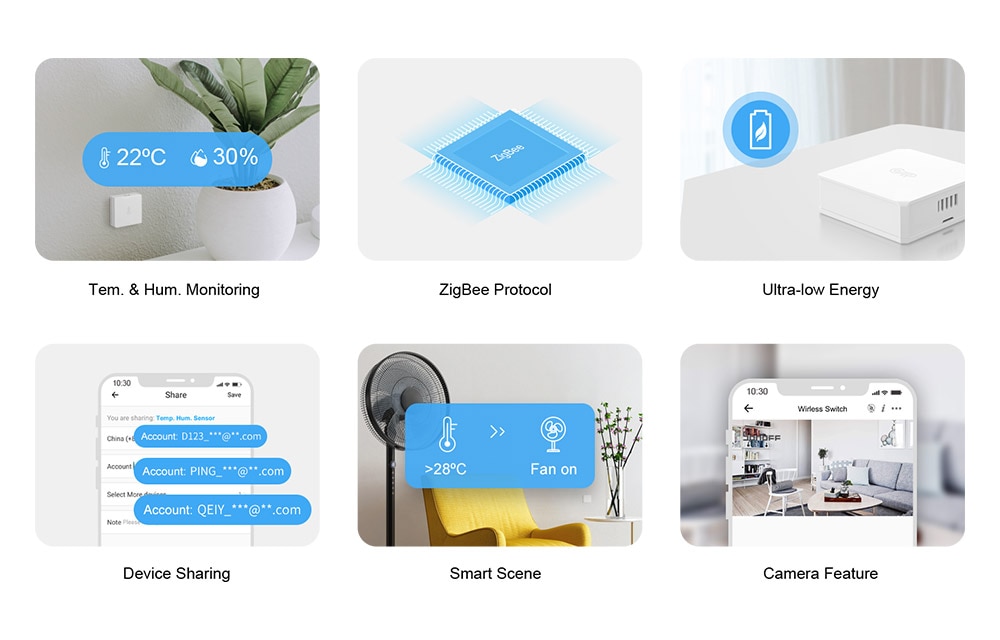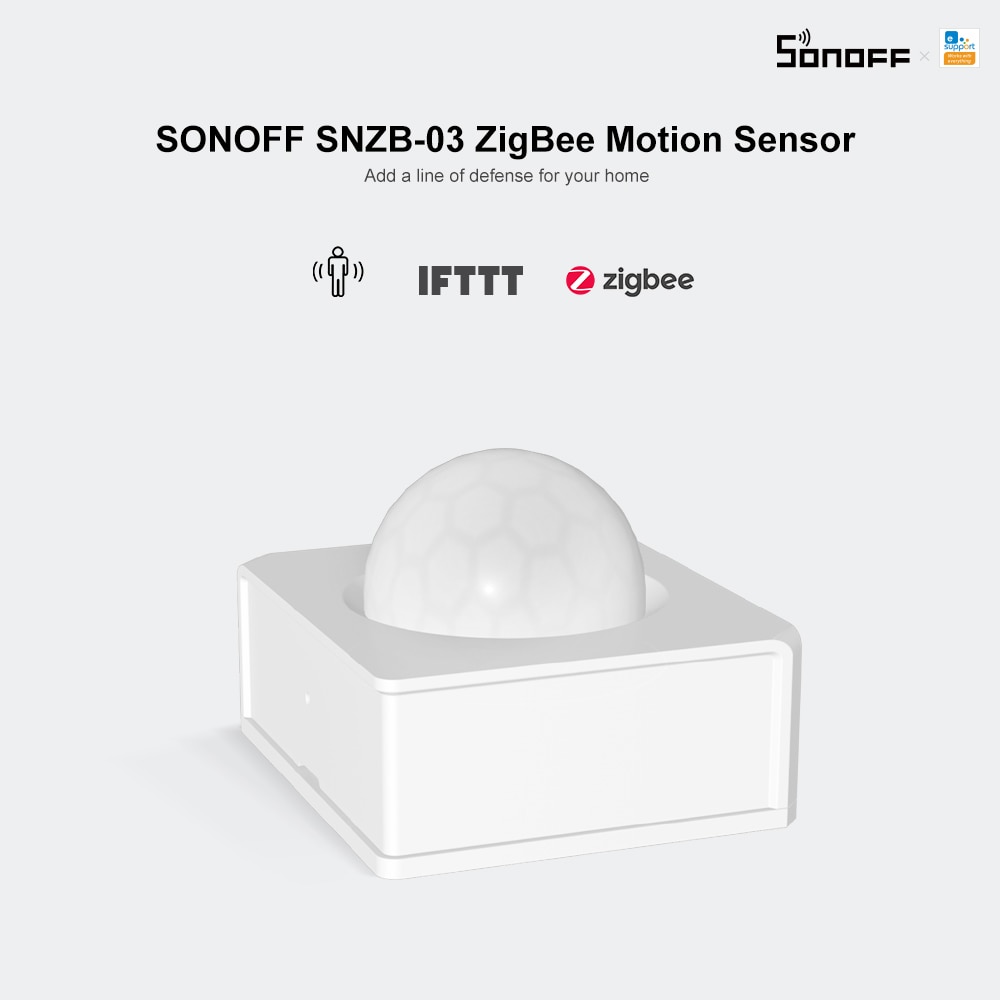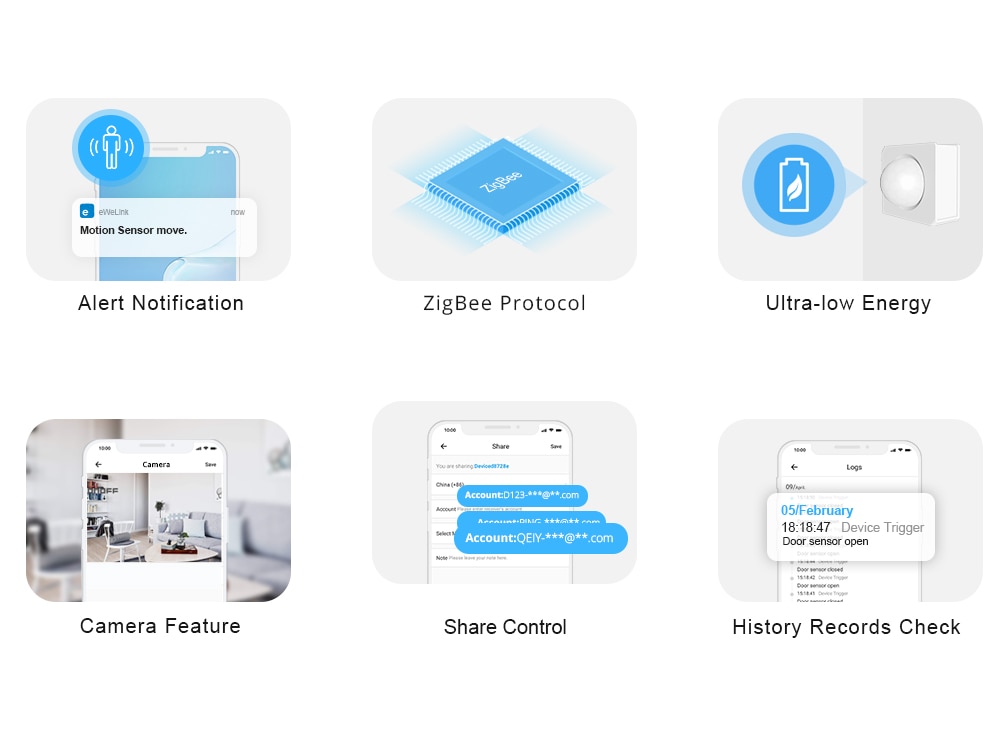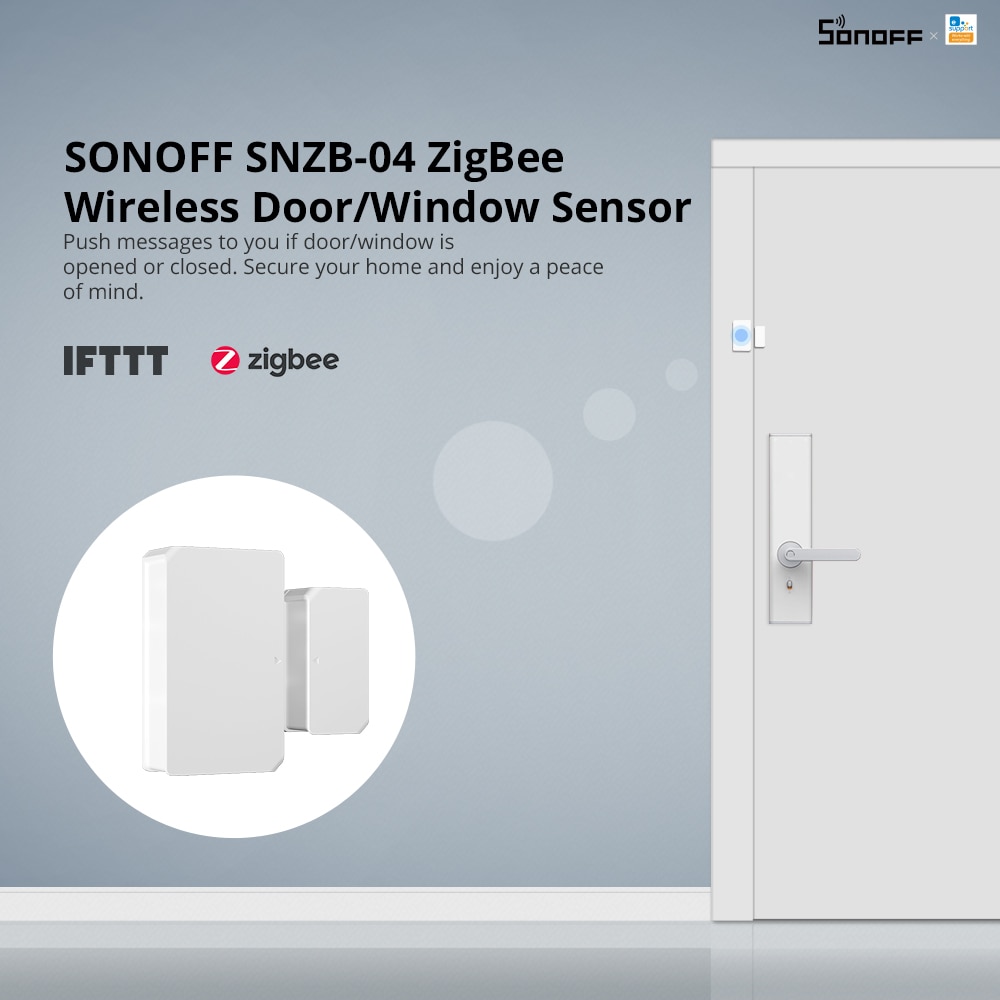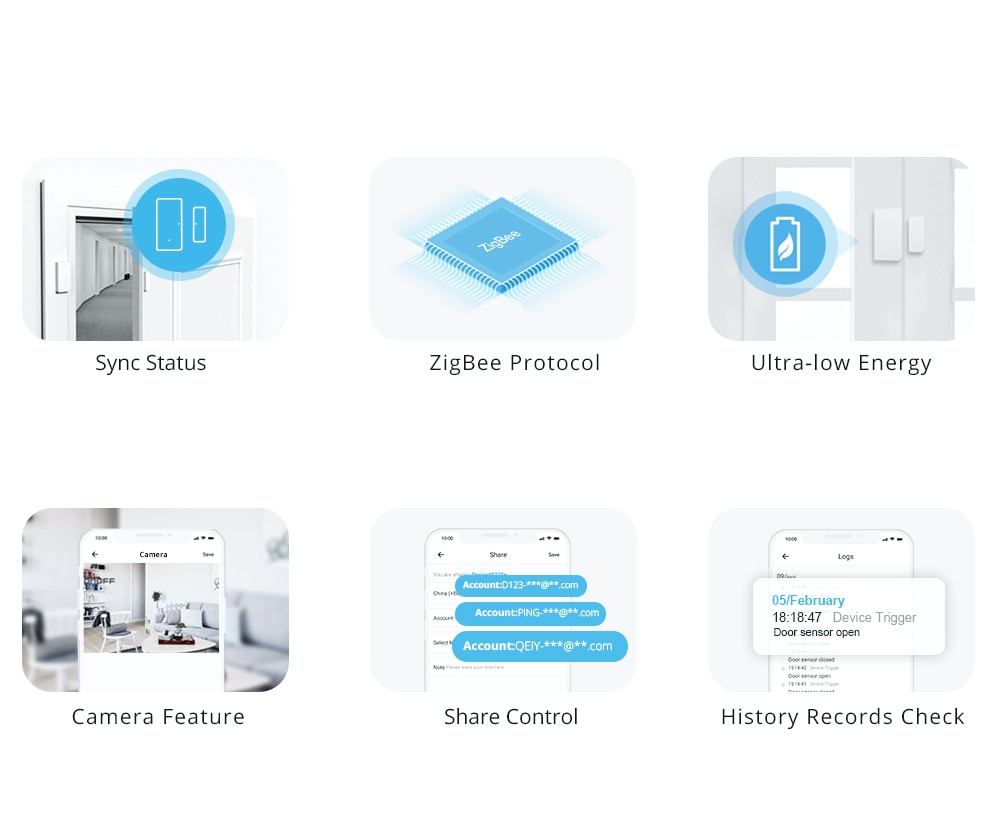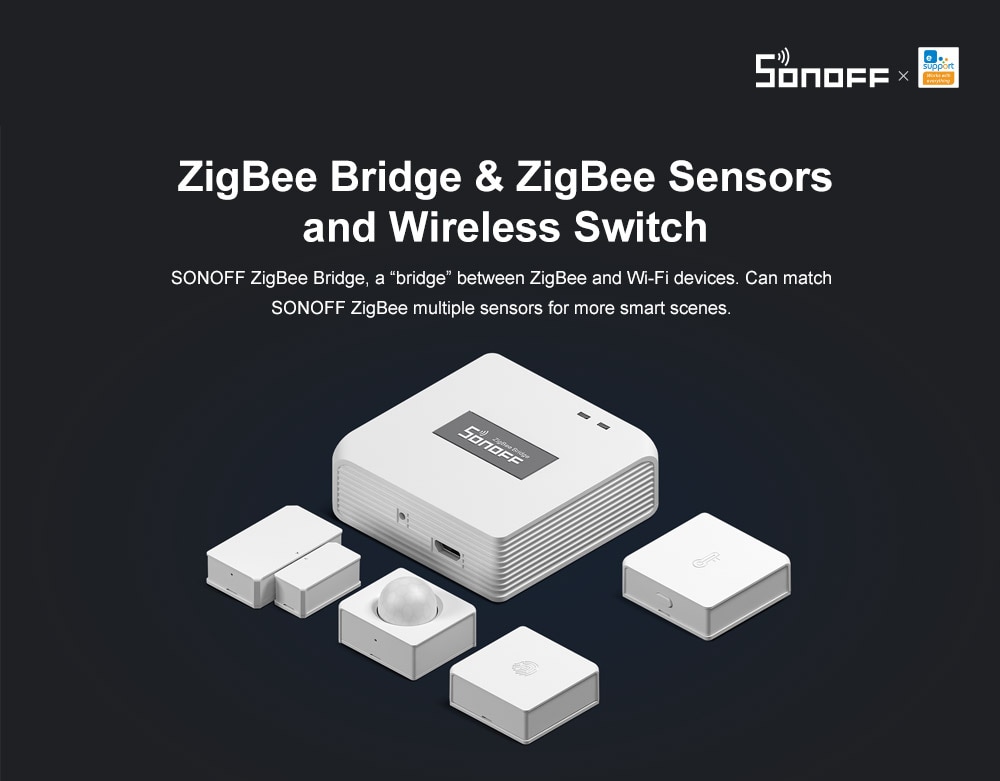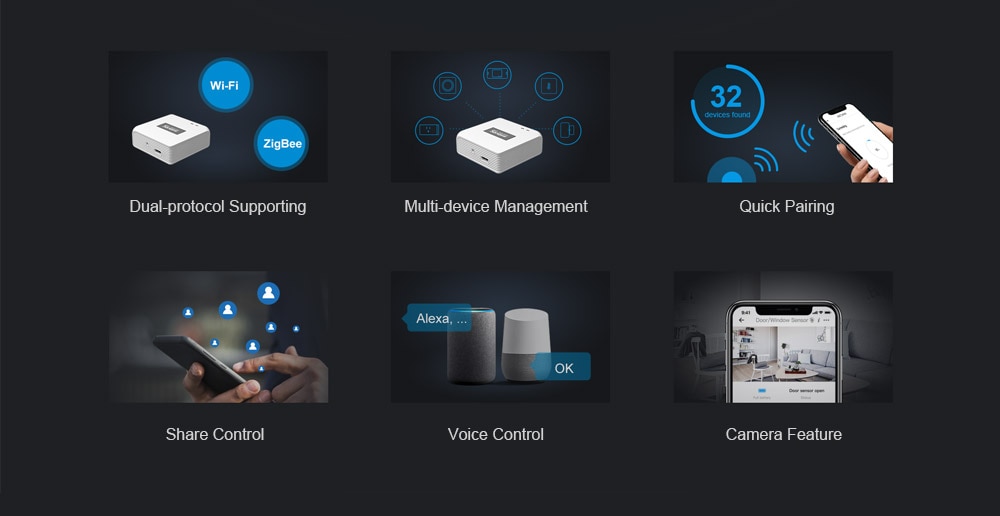 Make Zigbee and Wi-Fi Devices Interact
Whether Wi-Fi or Zigbee your devices support, now you can control them together on e-WeLink APP via the Bridge.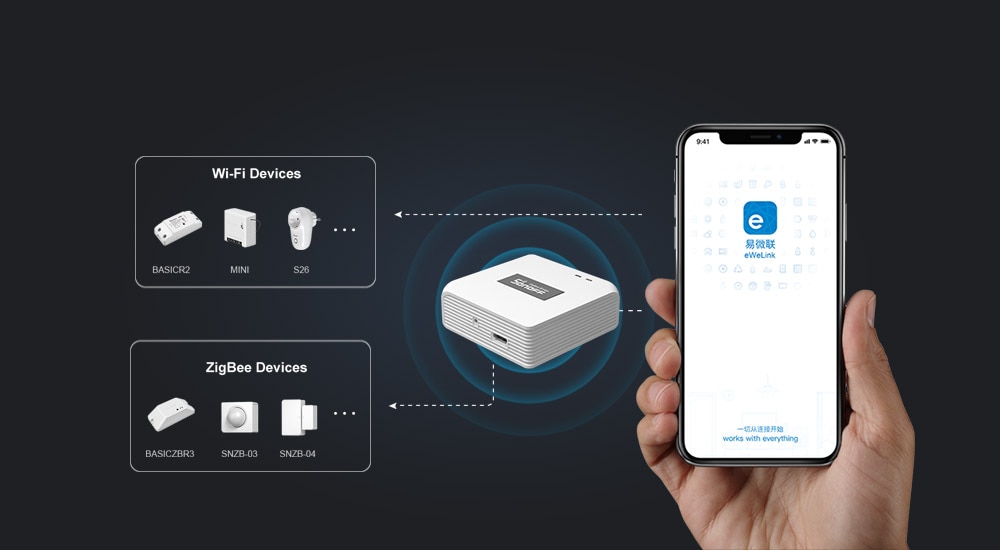 Strong Connectiity, Limitless Possibility
The Bridge supports to add Zigbee devices that SONOFF has released, like S31 Lite Zigbee smart plug and BASICZBR3 DIY smart switch, making your home smarter.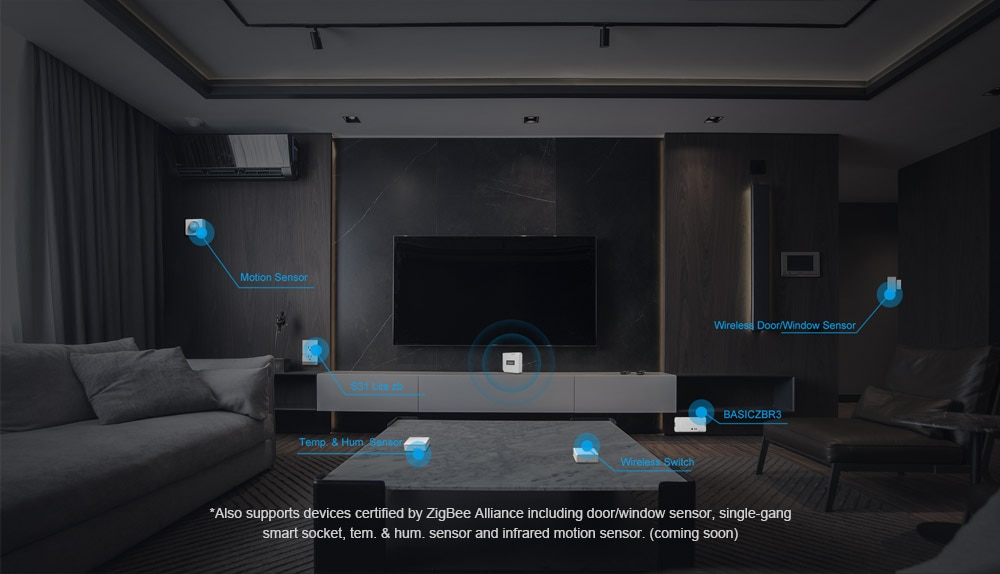 Long-distance Signal Transmission
Worry-free that the Zigbee signal quality is affected by the wall.Add a plug-in sub-device on the bricge and it can act as a router to ensure communitcation between the Bridge and the battery-powered sub-device.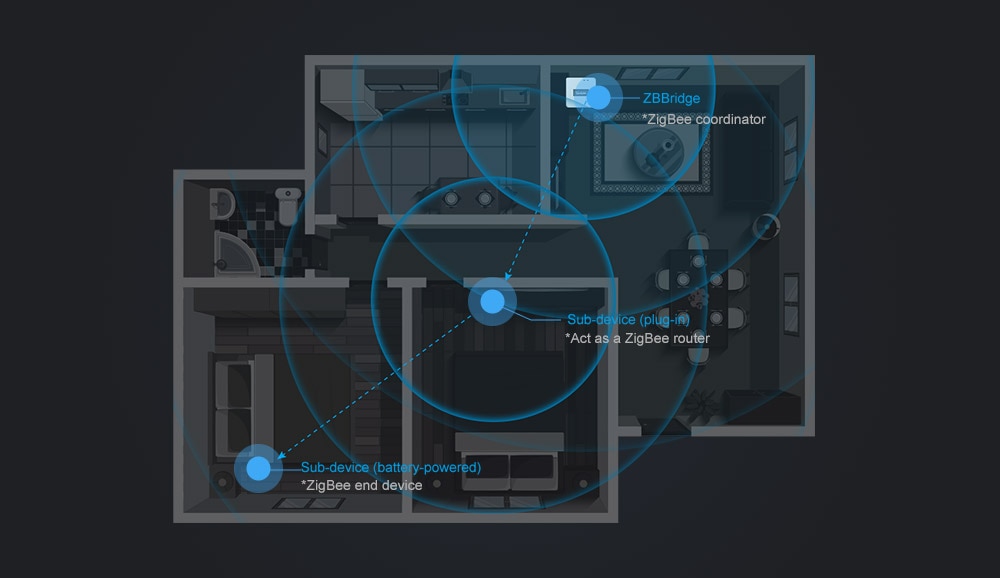 Pairing Quicker, Waiting Less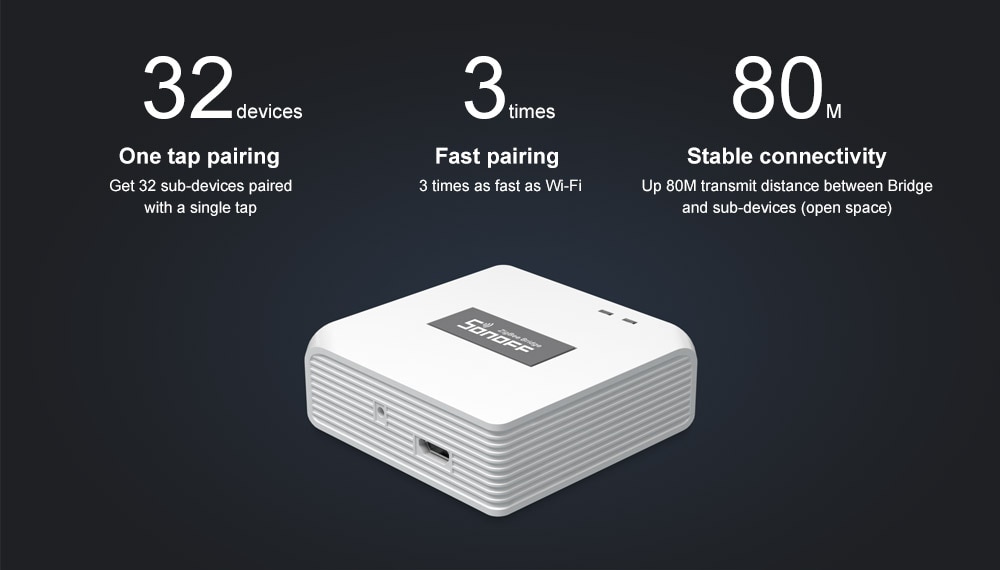 Hands-free Control from Smart Assistants
Turn on/off Zigbee devices or ask for the temperature or humidity with your voice? Connect Alexa or Google Home to simplify your daily life.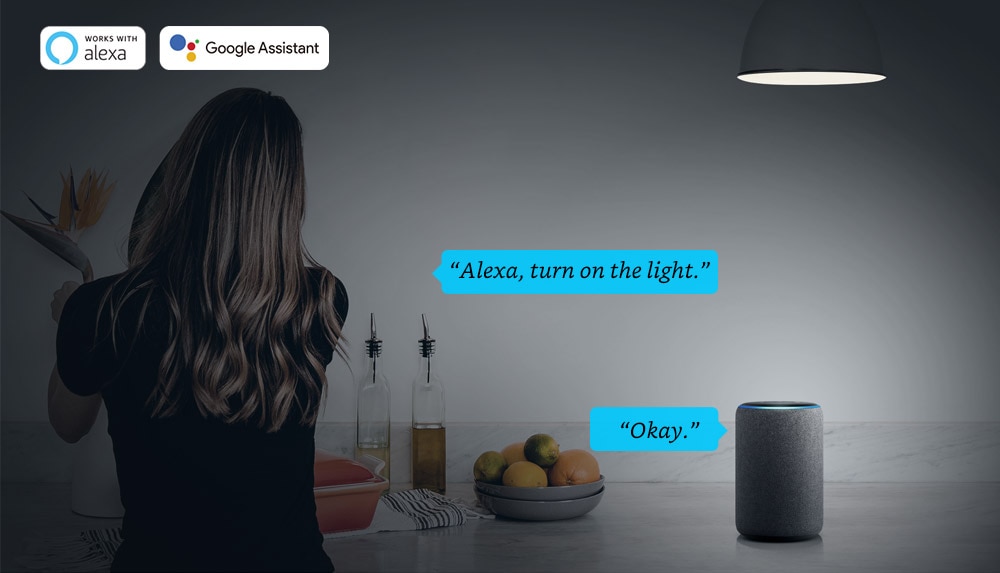 A "Removable" Control Helper
Pairs SONOFF SNZB-01 Wiress Switch and the Bridge, you can control the connected blinds via the switch in any corner of home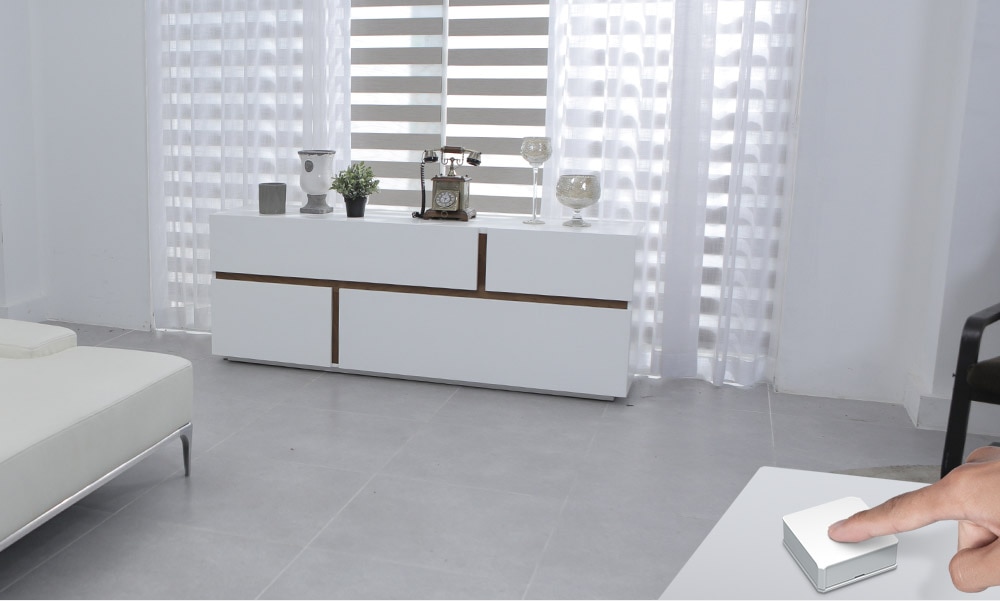 Deliver the Comfort of Home
Connect the Bridge with the SONOFF SNZB-02 Tem.&Hum. Sensor to detect the real-time temperature and humitity of your home, then you can turn on/ off the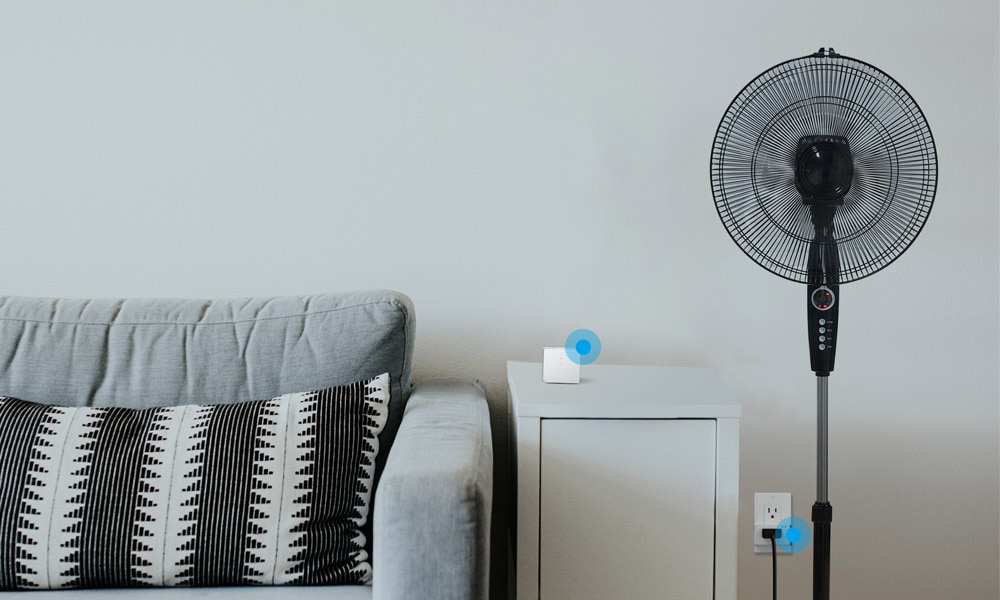 Movement Enables Your Light On
Works witch SONOFF SNZB-03 Motion Sensor to make your living -room light automatically turns on when you go into the living -room in the evening, no darkness before you.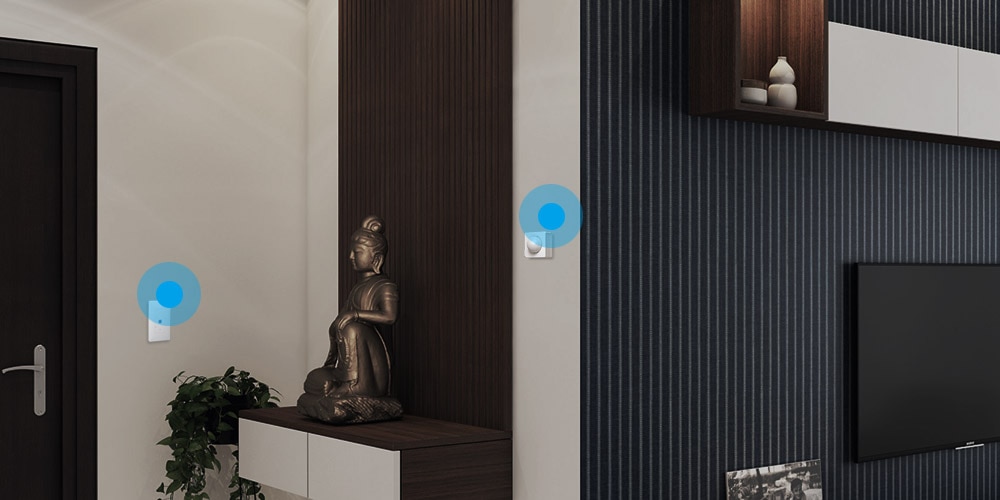 Your Action, Just Like A Switch Button
Wish the hallay light turns off when you close the door and leave home?SONOFF makes your idea into reality.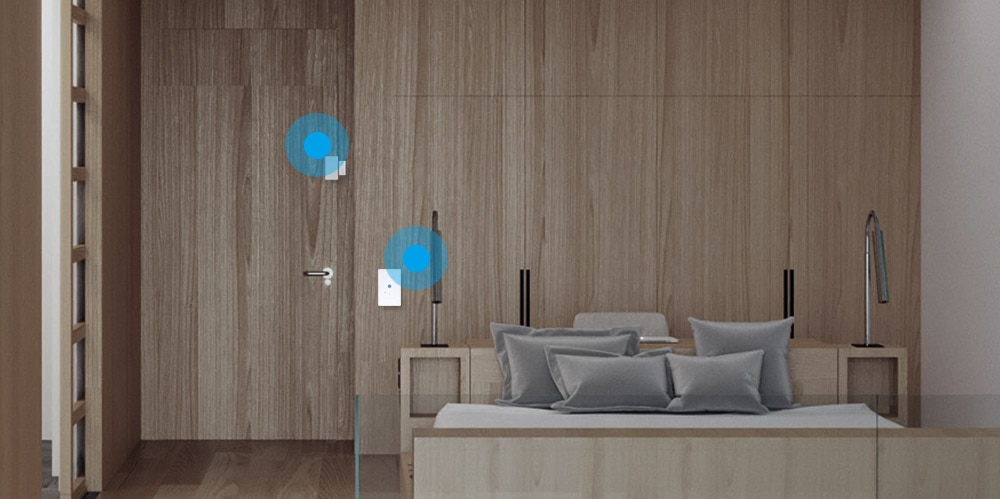 Quick to Find the Targeted One in Groups
Wish the hallway light turns off when you close the door and leave home? SONOFF makes your idea into reality.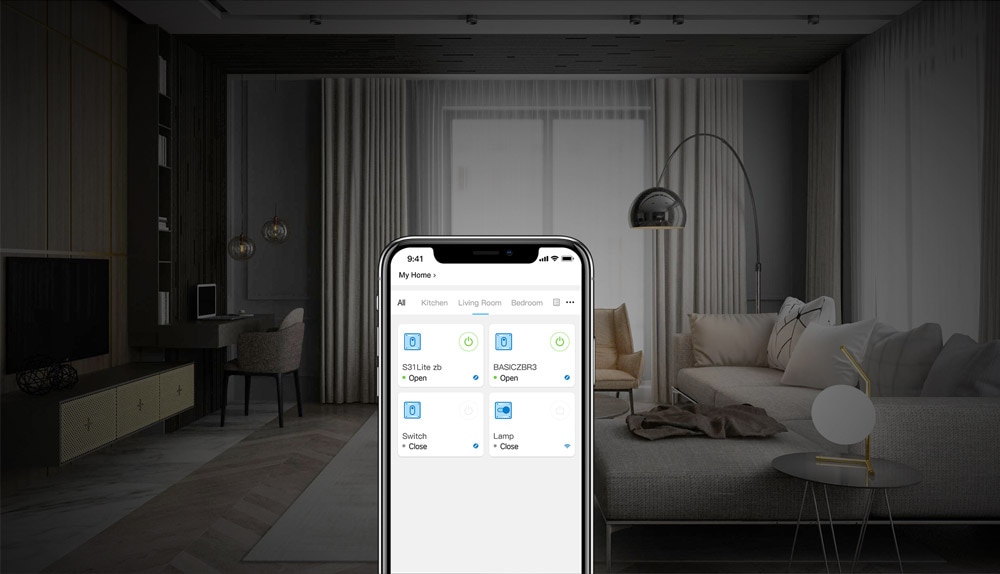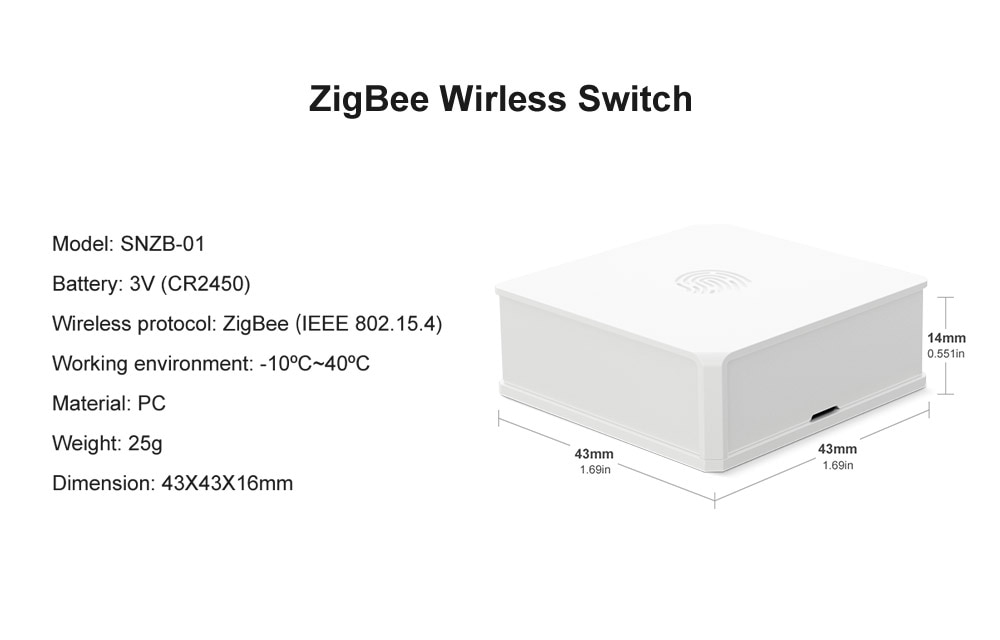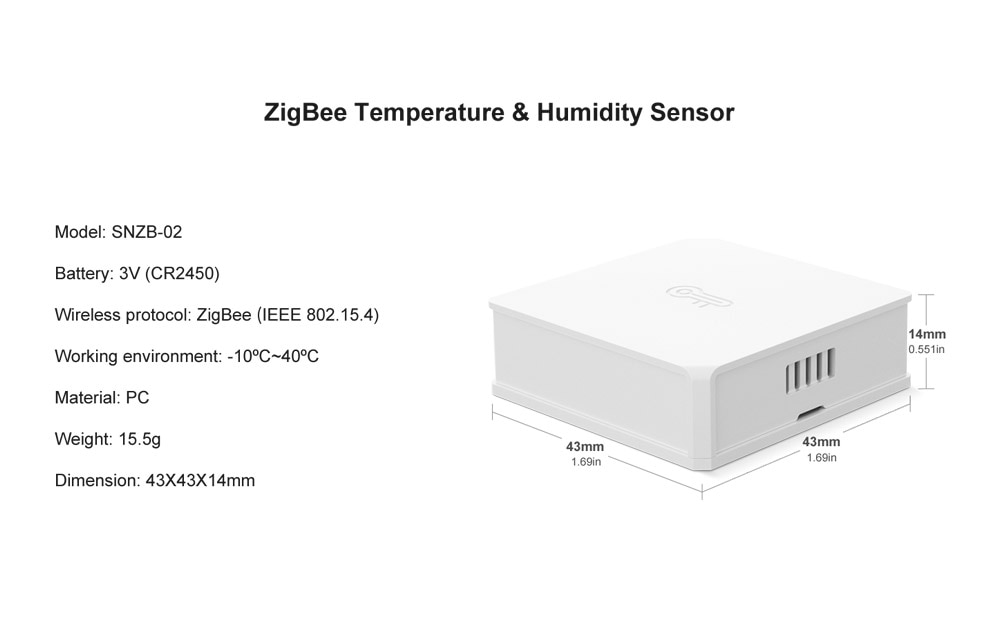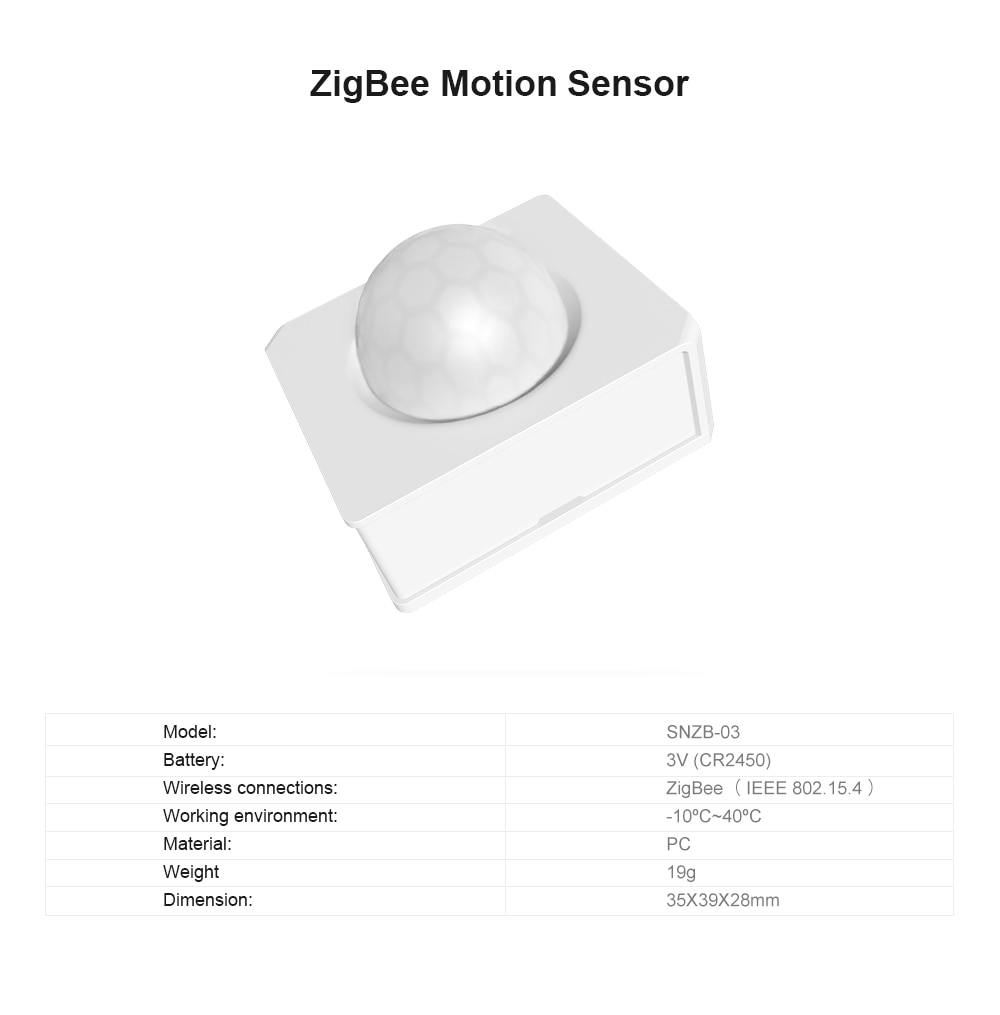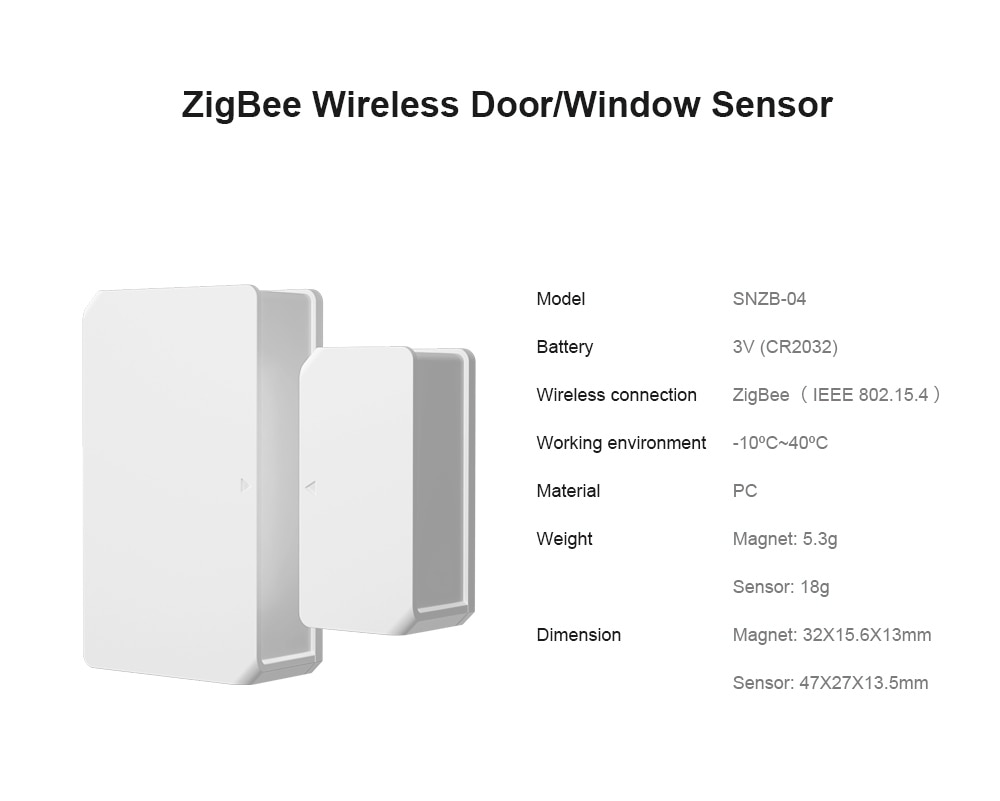 SONOFF SNZB-01 Zigbee Wireless Switch Overview:
Features: Control devices from any corner of your home. Set a smart scene to make it communicate with Wi-Fi devices. Two-way control of the light. Customize button actions in the APP. Pair with all devices with a single tap. Support adding the SONOFF camera to monitor the status of connected devices. Low-battery notification. Specification: Input: 5V 1A; Wireless Connections: IEEE 802.11 b/g/n 2.4GHZ, Zigbee 3.0; Material: PC V0; Dimension: 62X62X20mm Support Sub-devices:BASICZBR3 Smart Switch, S31 Lite zb Smart Plug, SNZB-01 Wireless Switch, SNZB-02 Temp. & Hum. Sensor, SNZB-03 Motion Sensor, SNZB-04 Wireless Door/Window Sensor
SONOFF SNZB-02 ZigBee Temperature And Humidity Sensor Overview:
Features: Monitor indoor temperature and humidity. Sync the real-time temperature and humidity recordings to APP. Can trigger Wi-Fi devices in smart scene. Add a camera to ensure you know any emergency in your home. Low-battery notification. Quick and easy to install. Specification: Battery: 3V(CR2450); Wireless protocol: Zigbee (IEEE 802.15.4); Material: PC; Dimension: 43X43X14mm
SONOFF SNZB-03 ZigBee Motion Sensor Overview:
Features: Create smart scenes to activate Wi-Fi smart devices. Detect movement and trigger alert messages. Turn on/off the devices through your movement. Work with the SONOFF camera to monitor your home. 6m detection distance and 110°viewing angle. Share the sensor to your family to together keep eyes on your home. 3-month history records check. Low-battery notification. Quick peel and stick installation Specification: Battery: 3V(CR2450); Wireless protocol: Zigbee (IEEE 802.15.4); Material: PC; Dimension: 35X39X28mm
SONOFF SNZB-04 ZigBee Wireless Door/Window Sensor Overview:
Features: Remind you when the door/window is open and closed. Sync the opening & closing status of door/window on APP. Can make ZigBee and Wi-Fi devices keep linkage. Control the light with an action. Support adding the SONOFF camera to view what happened at your home. Share control makes other users control the connected device quickly. 3-month history records check . Low-battery notification. Simple peel and stick installation. Specification: Battery: 3V(CR2450); Wireless connection: Zigbee 3.0; Material: PC; Dimension: Magnet: 32X15.6X13mm Sensor: 47X27X13.5mm
SONOFF Zigbee Bridge Overview:
Features: Remotely control ZigBee and Wi-Fi devices on eWeLink APP. One-tap quick pairing all sub-devices to be connected. Long-distance ZigBee signal transmission covers almost your entire home. Compatible with a wide variety of SONOFF ZigBee smart plugs, switches, wireless switch and sensors for more smart scenes. Hands-free control connected devices by virtue of Alexa or Google Home. Support device sharing with your family to control together. Group devices and access to control them via the home page of APP instead of sub-devices. View your home on either of them via adding a camera on the Bridge or sub-device. Works with other smart devices certified by ZigBee Alliance. Specification: Input: 5V 1A; Wireless Connections: IEEE 802.11 b/g/n 2.4GHZ, Zigbee 3.0; Material: PC V0; Dimension: 62X62X20mm Support Sub-devices:BASICZBR3 Smart Switch, S31 Lite zb Smart Plug, SNZB-01 Wireless Switch, SNZB-02 Temp. & Hum. Sensor, SNZB-03 Motion Sensor, SNZB-04 Wireless Door/Window Sensor
---