terstar.shop
Ultrasonic Cleaner DA-968 New Smart Mini Ultrasonic Cleaner Bath For Cleaning Jewelry Glasses Circuit Board Intelligent Control
Regular price
$69.90
$0.00
Unit price
per
Tax included.
Shipping
calculated at checkout.
DADI968 220V/110V Mini Ultrasonic Cleaner Bath For Cleanning Jewelry Watch Glasses Circuit Board
Features:
- Special protection circuit, intelligent control system  
- Small and lightweight, easy to carry and easy to operate  
- Pervasiveness, all object surface can be cleaned in the liquid  
- Nondestructive cleaning, ultrasonic cleaning won't make the object cause any damage  
- Remove dirt, dust, grease from the tiniest of places using ultrasonic technology 
- Suitable for cleaning jewelry, glasses, circuit boards, ornament, headwear, brooch, pen, CD, toothbrush, false teeth, milk bottle, fruit, clock, exact instruments etc. 


Description:
- Capacity: 600 ml 
- Input voltage: 220V - 50Hz / 110V - 60Hz 
- Consumption power: 30W / 50W 
- Ultrasonic frequency: 40KHz 
- Bath inner size: 16 x 8 x 3.8cm / 6.3 x 3.15 x 1.5 inches 
- Adjustable time scale: 30W: 1 - 60 minutes, 50 W: 1 - 30 minutes
Package Included:
1 x Mini Ultrasonic Cleaner
1 x Power Cable
1 x User Manual
Notes:
1. Our product price are not including the taxes. Buyer is responsible for the taxes. Please actively deal with customs clearance. If you need any document to clearance, please feel free to contact to us. If it is not our product's problem, we will not agree to return the refund.Thanks.
2. The EU version is 220V voltage, the US version is 110V voltage
Here is the  EU plug
 
Here is the US Plug
1.If we can clearly see the bubbles in the water, the product is normal, and in additional, the working principle of this item is ultrasonic wave, so we can't see its using effect with the naked eye
2.Inside groove liquid can't more than two-thirds, or it is easy to leak to the inside of the water during working
3.Please click firstly  "30w" or "50W" button to set a using time and then click "Power" button, please note that order of use.

If there is any questions, please contact us freely or check our operation video and user manual, thanks.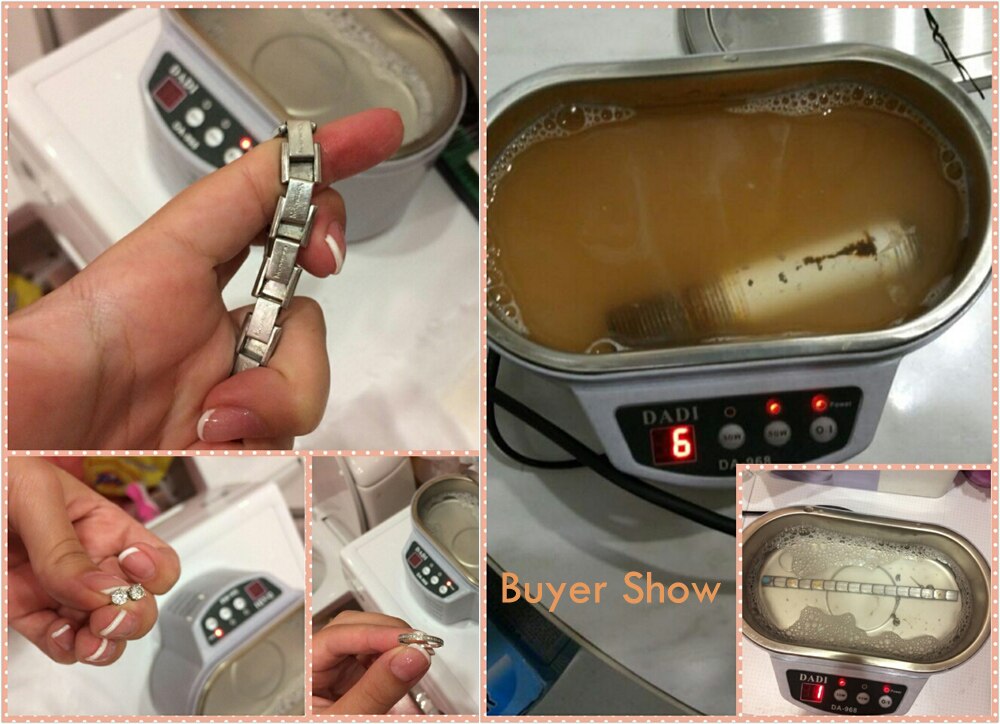 Removal of common fault
 

No.

Problems

Reasons

Solutions

1

Ultrasonic cleaning does not work

A. The power lord is not connected;
B. The fuse is burned;

C. High frequency wire is disconnected or not well-connected;

D. The circuit problem of transducers;

E. Other reasons.

A.Check the power connection and plug the power lord;

B.Change the burned fuse with a good one of the proper voltage;

C.Connect or change the high frequency wire;

D.Check the circuit or consult our after-sale service department;

E.Find out the defective component, replace it or ask our after-sale service department for a new circuit board.

2

The time setting does not work

A.The timer is broken;

B.Other reasons

A. Reset the power;

B. Change the timer or digital control panel;

C. Consult the after-sale service department;

3

Bad cleaning effect

 

A. Prolong the cleaning time;

B. Adjust the cleaning solution to a best cleaning level;

C. Choose the right detergent;

4

Leakage of the electricity

 

A. Ensure that the ground wire is well-connected;

B. Check whether the ground wire is loose and make it well-connected.

5

Other problems

 

Consult the after-sale service department
---