terstar.shop
Ultrasonic U Shape 360 Degrees Intelligent Automatic Sonic Lazy Electric Toothbrush Blue Light USB Charging Tooth Whitening
Regular price
$15.98
$0.00
Unit price
per
Tax included.
Shipping
calculated at checkout.
1.After full charge, install U-shaped brush head.
2.Shake the liquid toothpaste out of the foam and evenly apply it to the U-shaped brush head.
3.Put the brush head into your mouth, relax the bite U-shaped brush head, and select the right frequency mode.
4.Easily touch your teeth, and shake your brush back and forth with your hands at the same time,
   then brush your tooth more cleaner.
5.After brushing your teeth,use wet cloth to clean up the water and stagnation of the fuselage,
    and try to avoid soaking in water.
6.Please read the instruction carefully.
Colour: white/black/pink/blue
Charge:USB charging interface, wireless inductive charging base
Product size:about 1.2*2.6*4.5in
Modes: four modes(Soft cleaning mode/Strong cleaning mode/Massage gum mode/Whitening mode)
Frequency :5000-15000 times /minute 
1. Wireless charging.
wireless charging mode. A charge of 10 minutes, can live for more than 20 days, truly energy saving and environmental protection.
2. Magnetic suction connection
Hit it off, seamless connection, let the head of the toothbrush head is not in close agreement, do not worry because of the shock caused by brushing head off problems. Unique ultrasonic technology delivers enormous energy to the toothbrush head.
3. Automatic bubble
The toothpaste use will be pumped into the power head into foam, conveyed to the brush head through tiny tubes, evenly on the surface of teeth brushing
4. Power head
Power head is also called energy silo. When you use it, it will constantly supply energy to the toothbrush head, and the toothpaste solution will be stored here. In addition, the power head needs only one, which can satisfy the use of a plurality of toothbrush heads.
5. Emancipate your hands
U type single mouthpiece design, so you brush your teeth to liberate your hands, improve the efficiency of your life.
6. 360 degree brushing
By ultrasonic technology, combined with U type design, using only a 10-15 seconds to complete a 360 DEG omnibearing brushing action, so you will love brushing.
( 1 set )Electric Toothbrush Package Include:
1*Electric toothbrush 
1*USB Cable
1*Charger base
1*Use Manual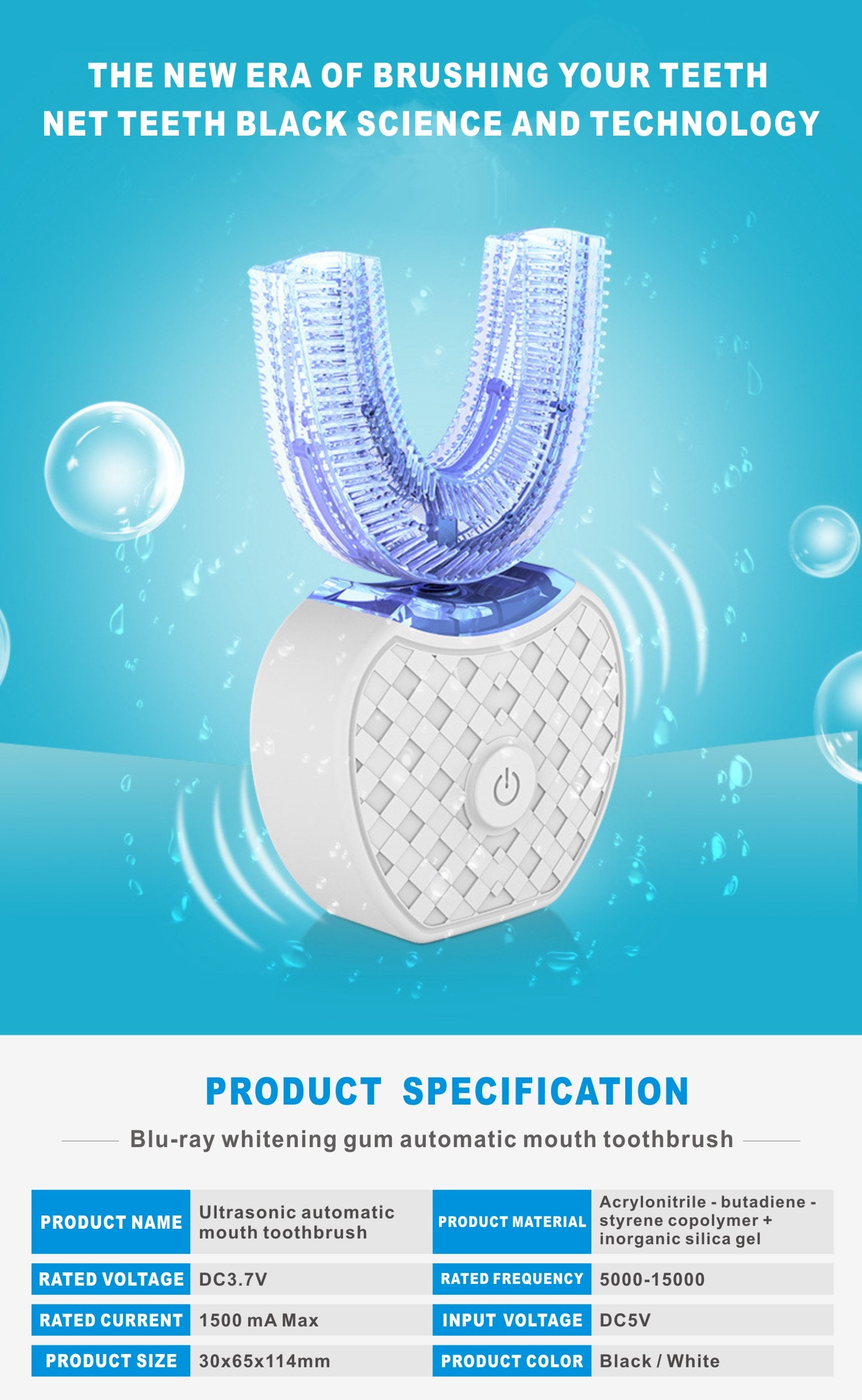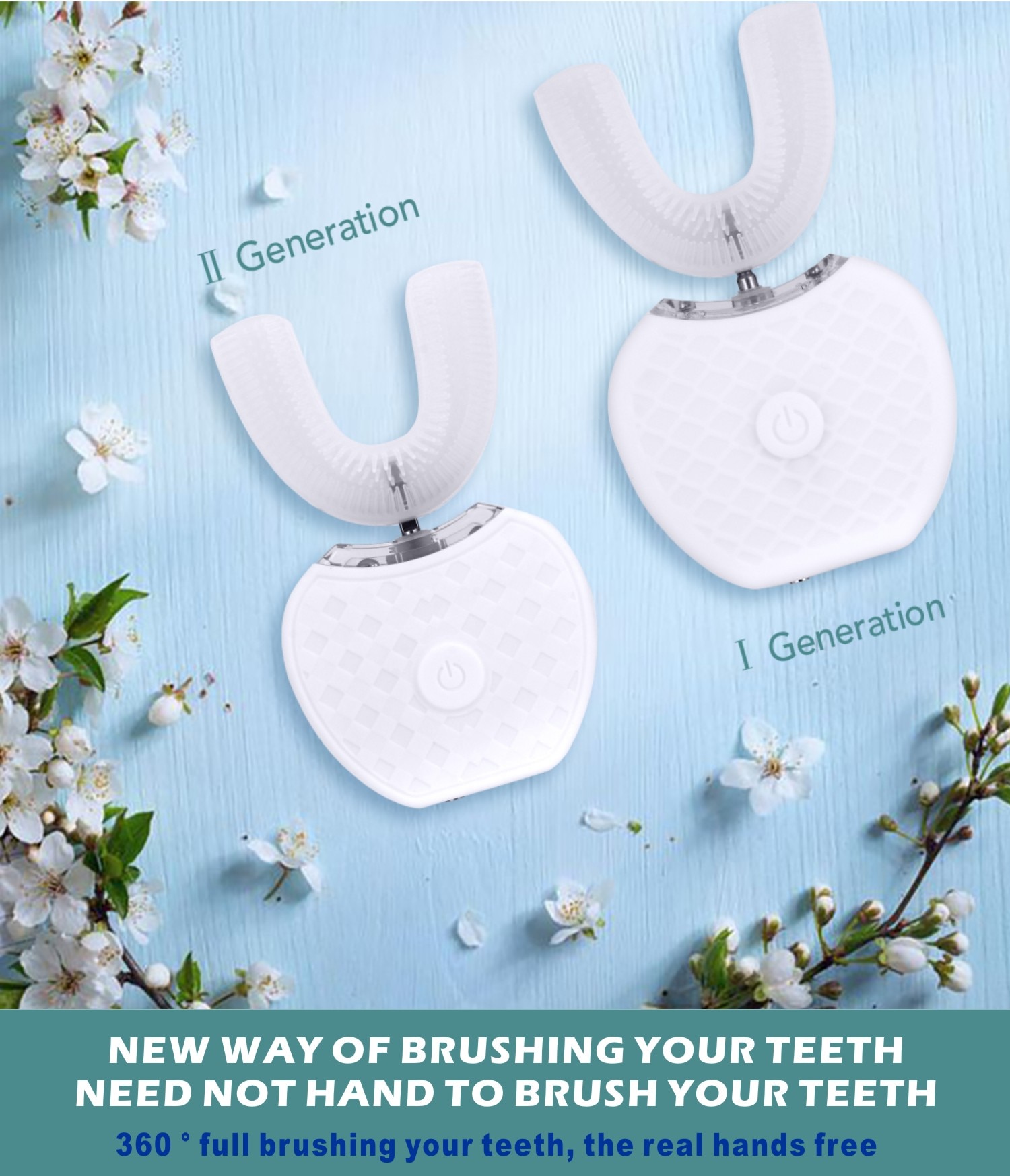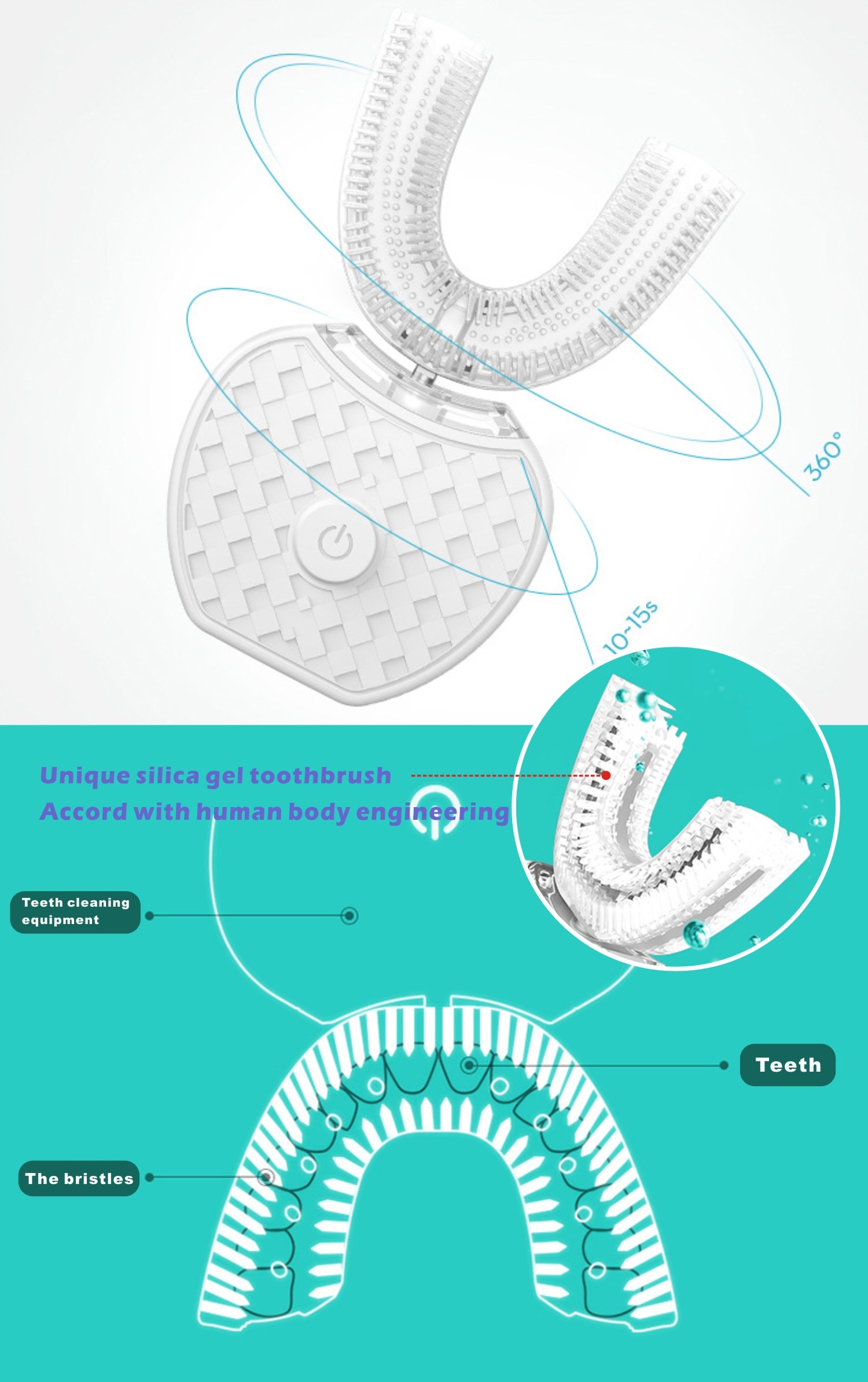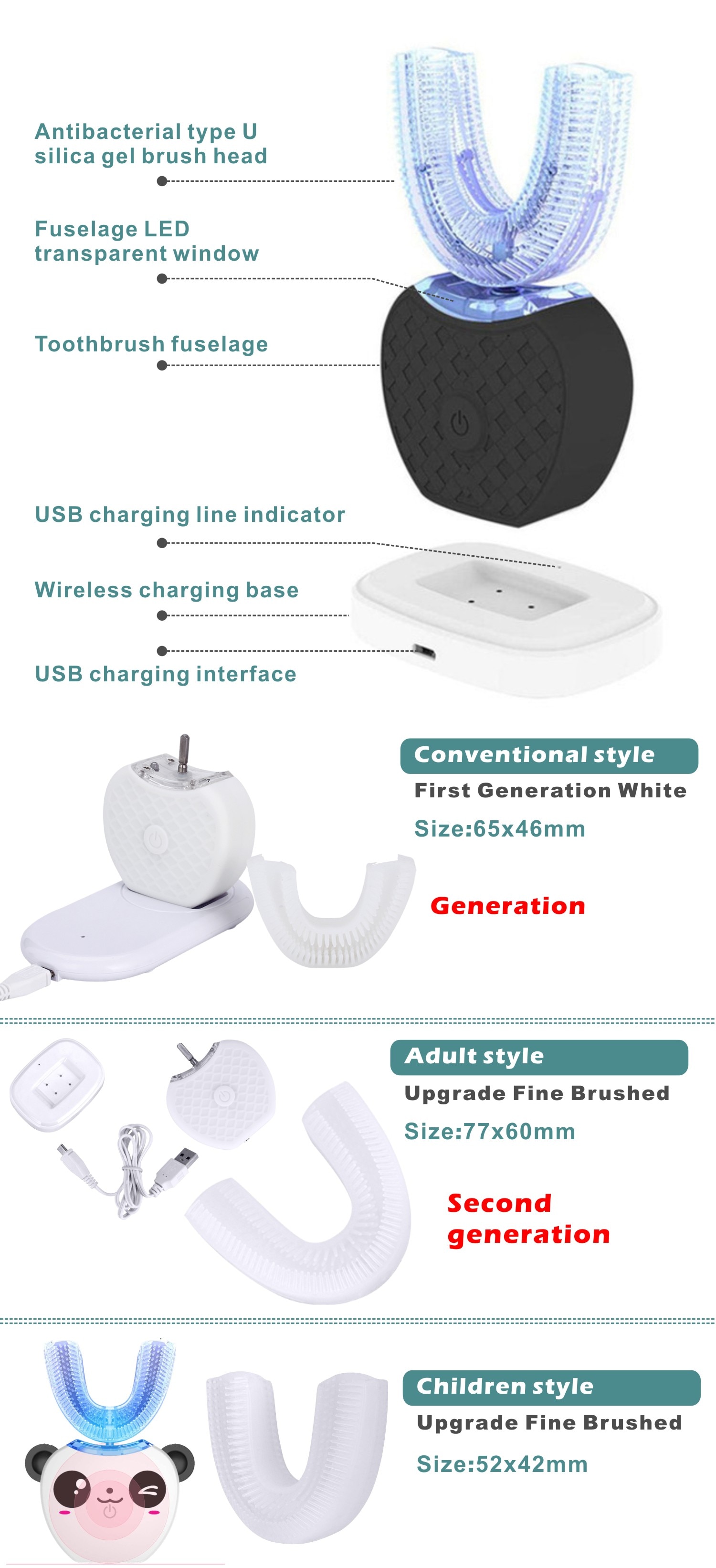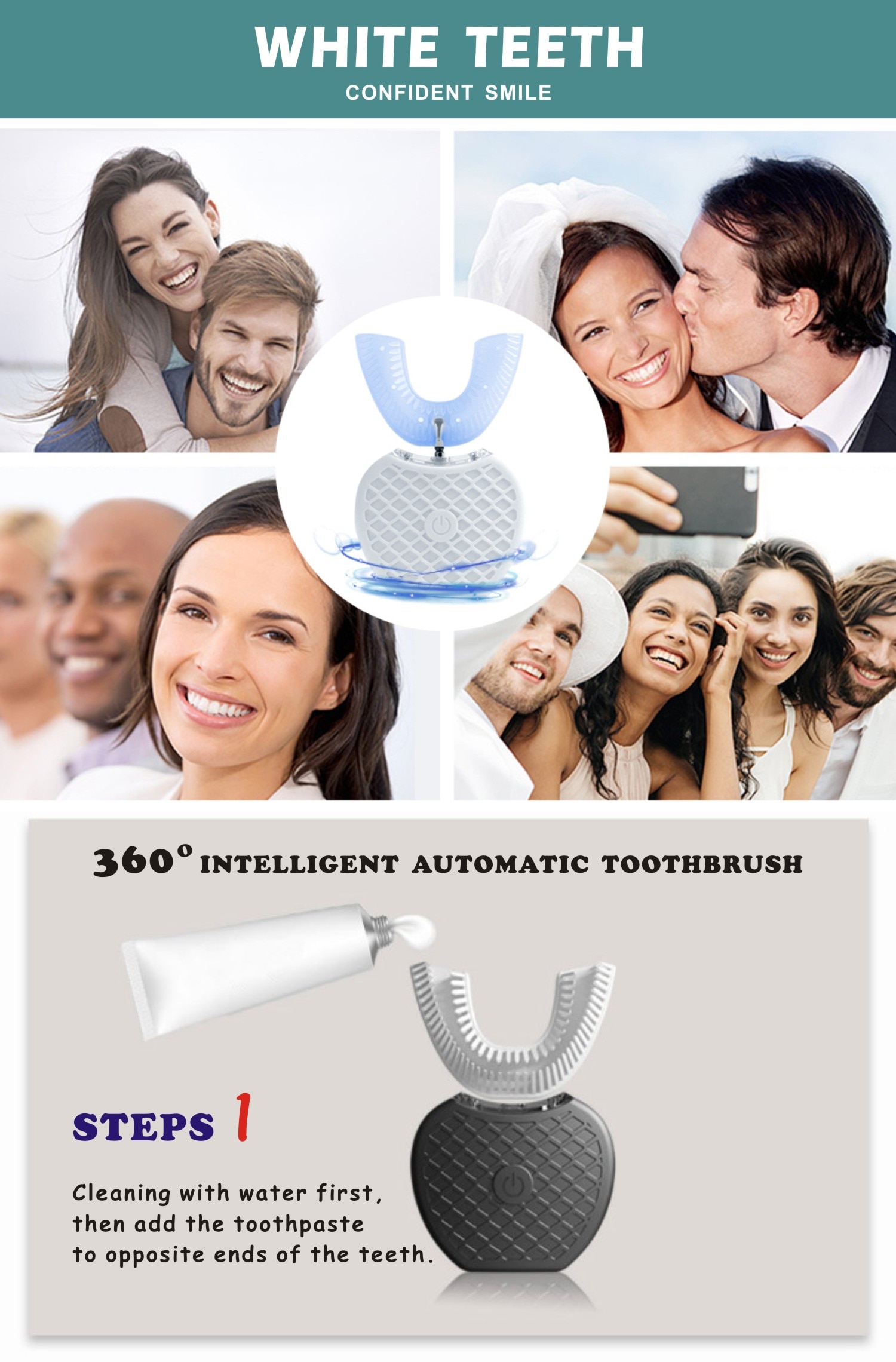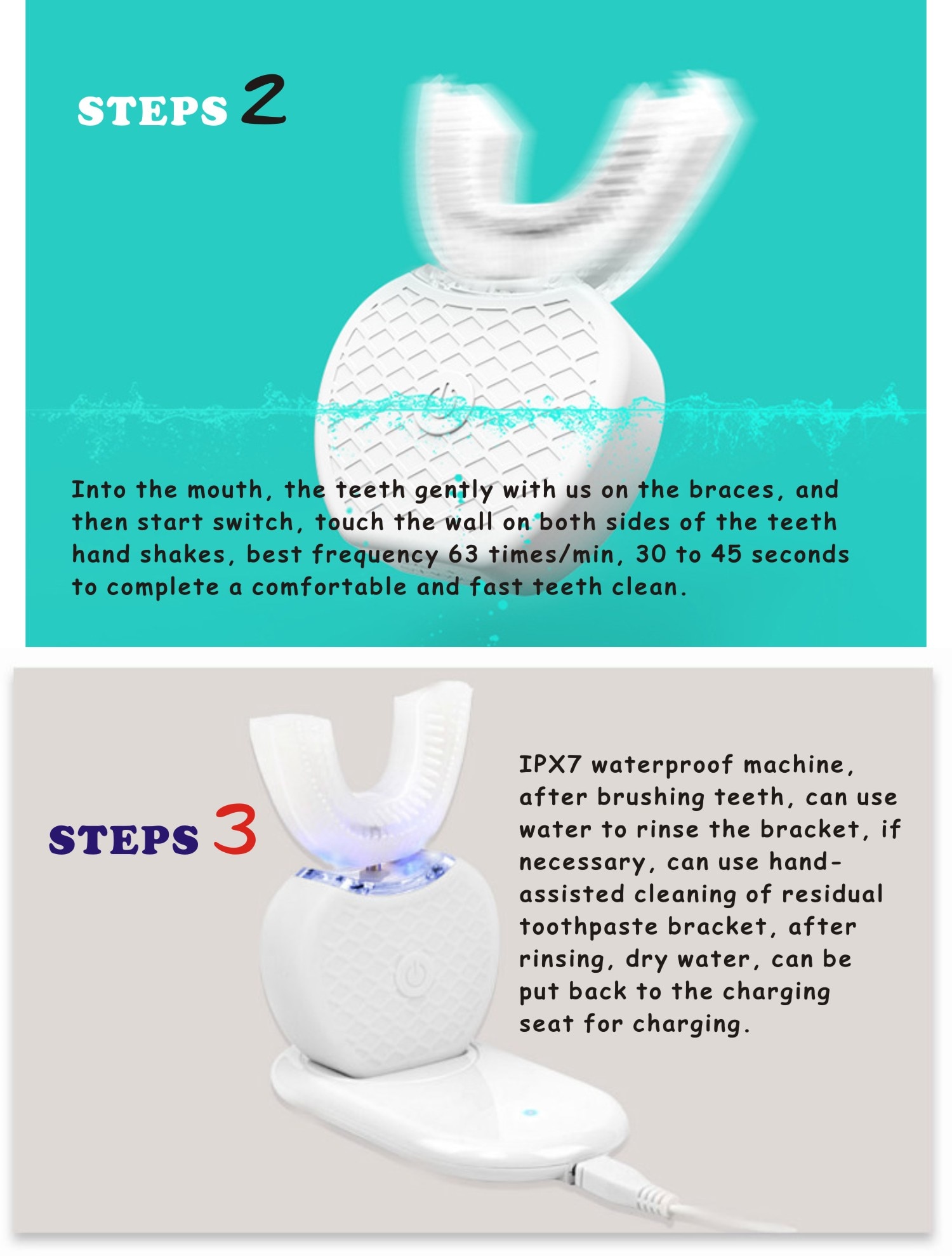 ---